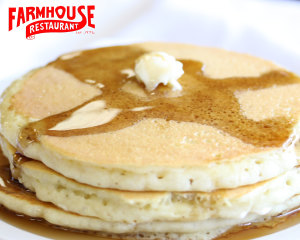 Looking for the best hole in the wall restaurant to satisfy those breakfast cravings, any time of the day? Look no further than The Branson Farmhouse Restaurant, located on the corner of West Main Street in downtown Branson.
Known for their decadent desserts and mouthwatering entrees, The Branson Farmhouse delivers once again when it comes to a down home breakfast.
This two-level restaurant and shop in the heart of downtown Branson is packed almost any time of the week, so be sure to get here early to grab a seat and chow down on the best breakfast around. Offering a variety of breakfast foods ranging from blueberry pancakes to country potatoes, The Branson Farmhouse Restaurant delivers delicious options for early birds and late risers alike.
Open daily at 8 a.m., The Branson Farmhouse Restaurant proves excellent time and time again as one of the best dining experiences for lunch and dinner, but it's a mistake to overlook this home style restaurant during morning hours, when you can find the best hearty Southern breakfast fare around.
With unbeatable prices and breakfast served all day long, The Branson Farmhouse Restaurant is exactly the kind of indulgence that you don't want to miss out on.